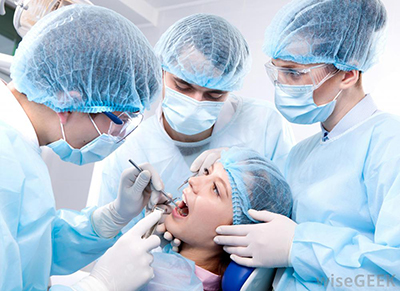 Remember the last time you had a toothache?
By "toothache", think unbearable pain radiating from your teeth. Pain that disturbs your sleep at night. That doesn't go away no matter how many painkillers you take. Pain that drives you mad.
What do you do next? As with most people, they visit a dentist. But which dentist do you visit? If you know a decent dental clinic hat you've been attending regularly for years, then good for you.
However, (and unfortunately) some people face 2 problems:
they don't know if there's a dentist nearby them
they don't know if that dentist is credible and trustworthy
Here's where technology comes to the rescue. Imagine ready made solutions that enable you to search for best dentists near your area. Best of all, you can do that within seconds, right at your fingertips. By the way, everyone's definition of "best dentist" may differ. Is it top service you're looking for? Best price? Convenience?
Regardless of what you're seeking after, these 6 tools will help.
Ministry Of Health clinics database (http://bit.ly/ministryofhealthmalaysia)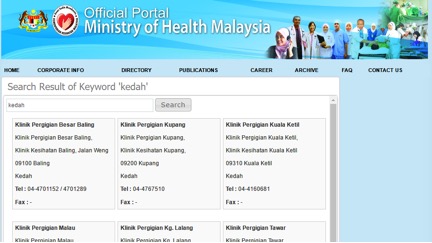 Did you know you have access to the database of government clinics in Malaysia?Yes. The information is out there. If you're a Kedahan and you're wondering "Hmm…how many government dental clinics are there in my hometown?" Well, wonder no further. Type "Kedah" in the search box. Seek and you shall find. Unless you're staying in super rural area, there's one not too far away. Go to the clinic, fix your teeth. No more suffering in silence. Problem solved.
Hint: Not every day is an outpatient (OP) day where you can walk in. Some days are reserved for appointments.
Contact the clinic to find out which day is their OP day before you go.
Dentists Nearby (bit.ly/dentistsnearby)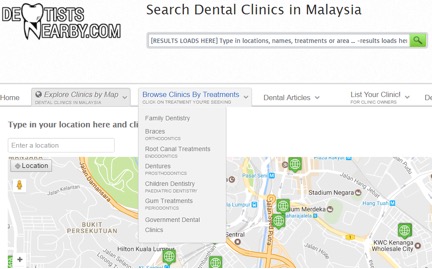 Some people assume dentists are all the same. That's not entirely true. Though the general dentist will cover a wide range of treatments concerning the oral cavity, there are specialties in dentistry.
For example, if you're going to send your kid for a dental checkup, the expert for that form of dental service would be a pediatric dentist. For root canal treatments, the endodontists are the ones equipped to handle complicated cases. It'll be a waste of time if you're seeking the treatment type that is not available at the clinic you're going.
Today, you can do due diligence and research before going to the clinic.
BookDoc (http://bit.ly/dentistrymy-bookdoc)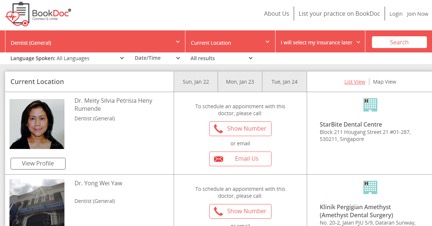 Enter Bookdoc – one of the disruptive technology in Malaysia's healthcare scene. Bookdoc displays all of the clinic and doctor info that you should know as a patient on one simple-to-navigate, eye-catching dashboard.
Here are some more benefits BookDoc provides:
24/7 book online anytime, anywhere
Appointment reminder
Reduce your waiting time
They have the official endorsement by the Ministry of Tourism and Culture Malaysia. Besides that, having a complete, integrated, hassle-free way to seek health services locally, outstation, and abroad.
MYDOC (http://bit.ly/mydoc-dentists)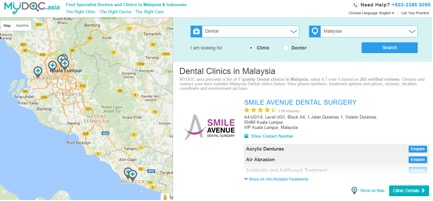 Introducing MYDOC – another innovative local healthcare startup.
What's great about this platform is the quality of reviews and ease of navigation. It's an enabler for those serious in getting dental/medical treatments but are still deciding between clinics.
When finding the right doctor and the right care, too much info can be overwhelming. You need a person – a human being to speak to clarify your inquiries. You may contact the Care Team by calling them over the phone or simply use the live-chat function on their website for further support! Hence, there's the human touch to this platform.
This is a platform that "helps find a clinic or doctor you love, and get the right care you need".
With close to 1000 positive customer reviews and ratings on the site, MYDOC live up to its name. They're continuously adding to its list of clinics and growing to serve you better.
GetDoc (http://bit.ly/getdoc-appointment)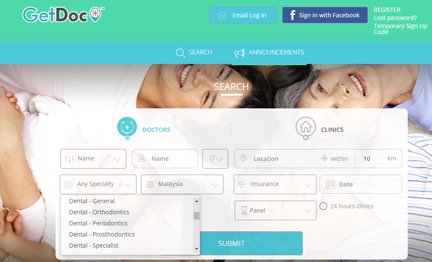 Here's another tool to make an informed choice by selecting the right doctor with verified information. Innovations like this will redefine the way people access healthcare services around the world with improved information flow, accessibility, and convenience. You can use it either on the website or mobile app.
Google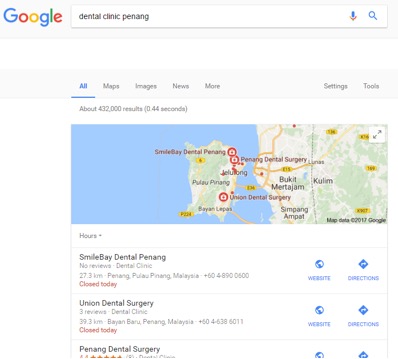 Last but not least, the big-G. How can we forget Google when it comes to search? As the search engine gets more sophisticated, we are seeing search results tailored to geolocation. With a quick search, we can find the nearby clinics with basic contact details (contact number, email, website etc).
How convenient it is to know the distance from your location to the clinic. You can plan the trip accordingly, amidst your busy schedules and hectic routines,
Hope these 6 tools be a huge time saver to locate the most suitable dental service for you. Instead of just getting word of mouth from friends and relatives, you have tech on your side. Leveraging technology in today's world is the way forward. Welcome to a world where knowledge creates power for the many, not the few. A world where data frees us – to make informed choices about how we live.
Dr. Edward Tay is a dentist with interest in preventive dentistry and empowering others in oral self-care.
Related Posts via Taxonomies