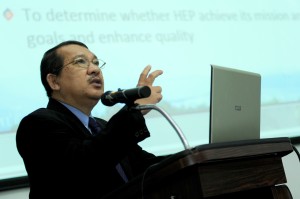 Professor Tan Sri Datu Dr Haji Mohamad Taha Arif
(MBBS Malaya, DPH Glasgow, FAM(Malaysia), FFOM (Ireland), FPHM(Malaysia) DrScience UNIMAS)
Tan Sri Datu Dr Haji Mohamad Taha Arif  is currently a Professor in Public Health Medicine at the Faculty of Medicine and Health Sciences, University of Malaysia Sarawak. He was born in the state of Sarawak, one of the Malaysian states in the island of Borneo.
Dr Mohamad Taha Arif graduated with an MBBS degree from the Faculty of Medicine, University of Malaya in 1974. He spent his early career as a medical officer serving in the rural areas of Sarawak. In 1979, he was awarded a British Council scholarship to read Public Health at the University of Glasgow. On his return to Sarawak, he was given greater responsibilities and through "rank and file" within the government service he eventually became the Deputy State Director for Health.
Thereafter he took on other responsible positions in Malaysia as the State Director of Health of Negeri Sembilan and Kelantan. He was also once the Director of the Institute of Medical Research (IMR), followed by Director of the Disease Control Division of the Ministry of Health. In 1997, he returned home to assume the post of State Director of Health in Sarawak. In 1999, with the outbreak of a new emerging infectious disease, the Nipah encephalitis outbreak, he was taken back to the Ministry as the Director of Disease Control Division. He remained there and helmed the Ministry as the Deputy Director-General of Health for Public Health in 2000, and the Director-General of Health Malaysia in 2001 and assumed this post till 2005.
Dr Mohamad Taha has been interested in disease control since the early days of his career. He has been actively involved on the ground during outbreaks of Cholera, Typhoid, Dengue, Dengue Haemorrhagic fever, Malaria, Enterovirus 71, Nipah virus encephalitis and SARS outbreak. He was also actively involved in the Polio Eradication programme from 1999 and chaired the Polio National Eradication Committee. He made presentation on Malaysia performance to the Polio Eradication Conference of the Western Pacific Region in 2000 for consideration of an eradication status for the region. For his work on anti Tobacco in Malaysia in 2004, he was awarded the "2004 World No Tobacco Day award to Individual" by the Regional Director, Western Pacific Region, WHO.
During his tenure as Director-General, he also served in various boards and councils in professional bodies and government institutions. He served as President or Chairman in some of these at the national level. Of note are the Malaysian Medical Council, Malaysian Dental Council, Malaysian Pharmacy Board, Malaysian Nursing Board, National Poisons Board. He was also appointed as  Board of Directors National University Malaysia (UKM), and the National Heart Institute, the National Institute of Occupational Safety and Health Malaysia, and the Malaysian National Atomic Energy Board. He relinquished these posts on retirement as the Director General. However, from April 2011 till to-date he has been appointed as the Chairman of Board of Directors for the National Heart Institute Kuala Lumpur.
Dr Mohamad Taha was not only a field public health specialist but was also actively involved in the training of  future doctors in the country. Currently he is a professor in public health medicine at the Faculty of Medical and Health Sciences, University Malaysia Sarawak. He lectures undergraduate and postgraduate students in public health, research and ethics.
His contribution and commitment to the health services in Malaysia has earned him several awards from some States in Malaysia as well as from the King (Agong). He has been bestowed with honours, degrees and fellowships. He was honoured by University of Malaysia Sarawak with Doctor of Science even before he joined as a faculty member. In 2008 he was honoured by the Asia Pacific Academic Consortium for Public Health with the APACPH Public Health Recognition Award.
His compassion is to bring about change for the better in the lives of his fellow men through community medicine and public health.