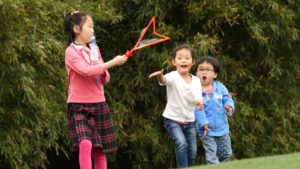 In a discussion with a group of mothers recently, I realised something rather worrying. While they are without doubt wonderful mothers who provide the best care for their offspring, the kids are mostly engaged in sedentary activities that are heavily academic-centred; for example extra study time, homework and tuition classes.
Let's face it: modern-day parents are under pressure to "produce" the cream of the (academic) crop. It is no wonder then that non-academic related activities are not given priority.
When it comes to physical activities in particular, they are done on an irregular basis. Sometimes there are swimming lessons over the weekend, the once-in-a-blue-moon trip to the playground and occasional cycling sessions around the neighbourhood. Most of the time, however, the children's time is spent indoors.
Why is this situation worrying? These children's lives are orchestrated to limit exercise to the minimum, or shelve it completely. It is time for this to change.
It goes without saying that physical activity is essential to good health and is important to a child's development. Time spent outdoors allows children to be active and run around to explore their surroundings.
Many associate physical activity or exercise with working out at the gym. Although it is not inaccurate, there are many more opportunities for a child to be active. Parents and caregivers can encourage their children to take up a sport or game that interests them.
They should also reduce the time spent doing activities that require kids to sit still for long periods of time. The common "e-nanny" practice – letting kids be engrossed in electronic gadgets – renders children inactive. It is no wonder the number of obese children in Malaysia is ever increasing.
So what are the benefits of keeping our children active? According to WHO, the following are benefits of regular physical activity in a child:
Develop healthy musculoskeletal tissues – Regular physical activities may enhance good growth of muscle, bone and joints.
Develop healthy cardiovascular system – The heart and lungs are stronger in fit and active children, and this paves the way to a stronger body.
Develop neuromuscular awareness – Physical activity has been shown to improve coordination and movement control in a child, thus further stimulating better cognitive functions.
Maintain a healthy body weight – A child who is regularly active can maintain a healthy body weight and this reduces their risk of acquiring other lifestyle diseases such as diabetes mellitus, hypertension and obesity, among others.
Develop good psychological wellbeing – At a time when there is so much pressure for a child to perform, physical activity can actually benefit them by improving control over their emotions. Symptoms of anxiety and depression are better managed and reduces their stress.
Cultivate social development – Children who participate in physical activities, especially the ones that involve other children or peers, are exposed to the social interactions. This helps build confidence, promote social skills and encourages character formation.
Avoidance of risky behaviours – Studies have suggested that children who are physically active and fit are more conscious of their own health, thus would avoid risky behaviours such as drug use, smoking and drinking.
Better school performance
Bearing the above in mind, parents and caregivers need to ensure that their children are physically active on a daily basis. It does not matter what kind of activity or exercise a child is engaged in. From playing sports to doing daily chores, all these will benefit the child as it involves all types of movements and will deliver the mentioned benefits.
It is never too early to introduce regular exercise to children. After all, they have heaps of energy and what better way to spend this energy than to participate in activities that can build their body? In the long run, children who are active are more likely to remain active as they progress into adolescence and adulthood. This not only helps in preventing lifestyle illnesses, but will also promote and maintain optimal well-being as a whole.
Dr. Ayu Akida is a Public Health specialist. Her area of interest is family health, especially women's health and infectious diseases. Find out more about her at The Team page. This article is published in conjunction with Universal Children's Day (November 20th 2017).
Reference:
Physical activity and young people. (n.d.). Retrieved November 8, 2017, from http://www.who.int/dietphysicalactivity/factsheet_young_people/en/
[This article belongs to The Malaysian Medical Gazette. Any republication (online or offline) without written permission from The Malaysian Medical Gazette is prohibited.] 
Related Posts via Taxonomies