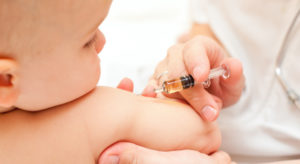 As a paediatrician, I have seen the gamut of sick children pass through my doors. It is always unfortunate when children fall ill, but it is worse when it could have been prevented, for example through vaccination.
No matter how busy parents are, the one thing that they must not forget is their children's vaccinations. For children under two years, vaccinations have to be given according to an immunisation schedule in order to ensure maximum protection against vaccine-preventable diseases.
For busy parents, the new MYVaksinBaby mobile app is a real lifesaver…in more ways than one! MYVaksinBaby is an easy-to-use app that makes it a breeze for parents to keep up with their baby's immunisation schedule. Since we spend so much time on our smartphones these days, an app is the best way to get information and reminders in one go.
The MYVaksinBaby app was developed by Immunise4Life, Malaysia's experts-driven community education initiative to promote immunisation for all ages against vaccine-preventable diseases. Immunise4Life is a programme initiated by the Ministry of Health together with the Malaysian Paediatric Association and the Malaysian Society of Infectious Diseases and Chemotherapy.
Information you can trust
I often get a lot of questions from parents who are confused and concerned about vaccination for their babies. They get so much dubious and conflicting information from friends and family that they don't know who to trust.
Thankfully, the MYVaksinBaby app is just the thing to help parents navigate this tricky subject. When it comes to giving you information about vaccines, it's as handy as having a doctor on your phone to provide information on vaccine-preventable diseases.
Developed by experts, this app is an accurate and credible source of information. It explains the dangers of vaccine-preventable diseases and gives you a list of all the vaccines that are recommended for your child under Malaysia's National Immunisation Programme, as well as additional vaccines that are available at private clinics and hospitals.
The app also answers your burning questions, such as: "How do vaccines protect my child?"; "Is vaccination allowed in Islam?"; "Are vaccines safe?"; and so forth.
You can even change languages on the app, and use either English or Bahasa Malaysia.
Handy reminders for busy parents
Your schedule is probably filled with meetings, deadlines and office functions. All these commitments might cause your child's next vaccination to inadvertently get forgotten.
With the MYVaksinBaby app, you won't have to worry about missing any more jabs. Once you register your child, the app will send you auto-reminders, alerting you on any upcoming vaccinations in accordance with your child's age.
After your child gets a jab, you can use the app's vaccination record system to keep track of each dose given and any vaccines that have been pushed to a later date.
Before and after vaccination care
Did you know that you should reschedule baby's vaccination if he or she has a fever? You can learn about this and more from MYVaksinBaby too.
In most instances, children do not experience any side effects after a vaccination, and even if they do, the effects are often mild. However, parents still can't help feeling anxious, so the app provides information and links to other resources where you can learn more for your peace of mind.
With the MYVaksinBaby app, everything that you need to know about protecting your baby from childhood infections is right there on your phone – from the A-Z of vaccination to reminders about your child's next jab.
MYVaksinBaby, a must-have app for all Malaysian parents, is available for free download on the AppStore (iOS) and on Google Play (Android beta version). Visit http://ifl.my/myvaksinbaby/ for more information.
Datuk Dr Zulkifli Ismail is a Consultant Paediatrician and Technical Committee Chairman of the Immunise4Life programme. He is also a father of two children and has two grandchildren.
A contribution by the Ministry of Health Malaysia under the Immunise4Life programme, in collaboration with the Malaysian Paediatric Association & Malaysian Society of Infectious Diseases & Chemotherapy.
Related Posts via Taxonomies